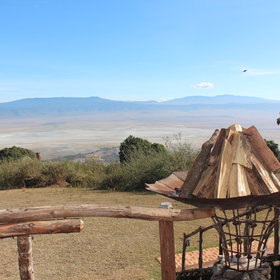 Ngorongoro Crater Lodge stands in an amazing location...
Ngorongoro Crater Lodge: Our full report
Rooms
30 stand-alone 'manyattas'
Traveller's rating

(93%) From
24 reviews
Children
Possible for all children; best for 8+
Open
All year
Occupying a spectacular spot right on the rim of the Crater, Ngorongoro Crater Lodge is undoubtedly one of the most opulent lodges in Africa. Combining architectural hints of traditional Maasai homesteads with interior styles borrowed from European stately homes, the present lodge was built in 1995 when Abercrombie & Kent took over an original lodge from 1956.

Grand antiques, gilded mirrors and local art compliment each other dramatically, resulting in a contemporary, smart, theatrical atmosphere. Crater Lodge isn't to everyone's taste: some will regard it as completely over-the-top, and not at all in keeping with the safari experience. However, if you're looking for something exceptionally special, and completely decadent, then it may be perfect.

Ngorongoro Crater Lodge, is actually three separate intimate camps – North (12 rooms), South (12 rooms) and Tree (6 rooms). Each has its own separate dining and lounge area, which helps to maintain a small and exclusive feel – even though the lodge has 30 rooms altogether. When we last stayed here, we had no preference for any of the three: each is very similar in style and shares an excellent quality of service and high standards.

North and South camps are set slightly higher up the hill and are exact mirror images of each other – whilst Tree Camp sits literally on the edge of the crater. The Tree Camp has views uninterrupted by other buildings, but the higher location of North and South lend a better perspective. North and South also have larger rooms.

The main lounge for each of the North and South camps is divinely decorated with wood-panelled walls, large beaded chandeliers, raw silk curtains and inviting velveteen sofas. The roofs are brilliantly crafted from banana leaves (a motif created by the original designers Chris Brown and Diane Fox), while Persian rugs adorn the floors and fresh roses are set out daily. Outside each, an expanse of decking is decorated with terracotta pots filled with Maasai spears, and a large fireplace provides the perfect setting for pre-dinner drinks as the moon rises over the Crater rim.

The Tree Camp has a similar style but without being quite so extravagant. The décor is still artistic and imaginative, but without the same rather camp 'boudoir' flair. The snug atmosphere of its communal area is balanced by floor-to-ceiling windows, with a stupendous, uninterrupted view across the Crater – and a terrace below that is a truly amazing place for breakfast. It has a more rustic feel to it than North and South, being built around a strangler fig – but the thick velvet and fur, and crystal decanters, mean that you might be forgiven for thinking you've entered a royal residence.

All the very large rooms in all three of Crater Lodge's camps are essentially similar, and decorated with rich colours, chandeliers and wood-panelled walls (for guests with mobility challenges the lodge recommends room #22 in South Camp, which has a level entrance). In each room, a fireplace sits in the corner, and is usually lit in the evenings by your personal butler. This makes the rooms incredibly cosy and great to relax in at the end of a long day out on safari. (Read more about the manyattas… ). Rooms #1 and #2, incidentally, connect to create a vast suite ideal for a family.

However, it isn't just the aesthetics of the lodge that are spectacular; the service is also top-class, and staying here we felt very spoilt. Each room is assigned its own personal 'butler', who is on hand should you want anything. While some people may be put off by the idea of having someone to wait on them, the reality is quite subtle. These butlers aren't ever-present servants; it's merely a high level of personal service, and a lot of the time you may not even notice their presence. But it does mean that when you arrive back after a long game drive, you may find someone standing in the car park with your preferred drink ready for you on a tray, and a bubble bath waiting for you in your room; or return from dinner to find you electric blanket switched on. It simply serves to enhance the luxury safari experience further.

The shop at Ngorongoro Crater Lodge is situated near to the lodge gate and stocks a fine array of high-quality curios, as well as toiletries and postcards. There's a productive workshop right behind the shop which is fascinating and can be freely visited, and Maasai ladies doing beading are often camped out at the shop front.

In terms of activities although games drives in the Crater are the main reason to stay here, guests can also take a short 30–60-minute walk with the on-site naturalist between North Camp and Tree Camp to find out about the various species of plant and wildlife. There's a nursery with 50,000 tree seedlings.

You might expect to find a swimming pool at Crater Lodge but the fact is it's rather too cold at this 2,400m (7,900ft) altitude to swim.

The climate does suit wine storage, however, and there's a well-stocked wine store that doubles as a TV-projection screening room and private dining area.

The greatest draw of course is to head down into the Ngorongoro Crater itself, either with one of the lodge guides (whose quality varies from excellent and knowledgeable to rather lackadaisical) or with your own private driver-guide booked through Expert Africa. The lodge uses closed-sided safari vehicles with pop-top roofs – designed for game viewing. Departure times are very flexible, so you may wish to take a packed breakfast and return for lunch, or perhaps have breakfast at the lodge and take a packed lunch with you, returning in the late afternoon. To maximise your time on the Crater floor you can also go for an all-day drive. The drive from the lodge to the descent road and down to the Crater floor takes about 40 minutes.

Near Tree Camp, there's a sundowner spot where for a fee (usually US$60 per person) Maasai dancers perform by arrangement. Blankets are laid out on the grass and it's a fine way of spending an hour before the sun goes down.

Finally, if you're thinking of getting married on safari, Crater Lodge retains a qualified minister to perform the legal ceremony.

Our view
Ngorongoro Crater Lodge is a unique property – for some it is completely over the top and out of place; for others it's the height of luxury. The whole Maasai-meets-baronial-manor concept is extraordinary; the food, service, rooms and general facilities are excellent; and the location is outstanding, with its stunning views over what many regard as the world's top wildlife area. But it's also one of the most costly lodges in Africa.
Geographics
Location: Ngorongoro Crater, Tanzania
Ideal length of stay: Two nights in order to spend at least one day exploring the Crater floor, but you could easily stay for three nights and have a day just to enjoy the lodge and its amazing view.
Directions: Most visitors to Ngorongoro Crater Lodge fly to Lake Manyara Airstrip, from where it is a two-hour drive to the lodge.
Accessible by: Fly-and-Transfer
Key personnel
Owner: &Beyond
Staff: 149 staff (was 160 before recent retirements)
Food & drink
Usual board basis: Full Board
Food quality: The food at Ngorongoro Crater Lodge is generally generous and of a very high standard. You might expect them to source a lot of food from the local area, but farming is not allowed in the Ngorongoro Conservation Area, and there isn't even a small organic garden at the lodge, so essentially everything is trucked in from Arusha. However, that's not to say they don't take great care over their sources: Brown's cheeses from Nairobi, Kenyan beef and local lamb from a Tanzanian farm, fish from Lake Victoria are all on the menu.

Breakfast is a vast buffet of fresh bread, cereals, fresh fruit, dried fruit and yoghurt. You will then be offered a cooked breakfast – choose from a hearty full English breakfast, eggs Benedict, boiled eggs or perhaps smoked salmon and scrambled eggs if available. There's also often an interesting "Treat of the Day".

You might choose to take a packed lunch with you into the Crater, which will include delicious sandwiches or wraps (our calzonis in 2015 were superb), fruit and perhaps a pastry or cake of some sort. These packed lunches are perfect to keep you going while out on a busy day of safari.

If you are in the lodge for lunch, there is usually a refreshing buffet featuring dishes such as crispy green salads, bean salads, cold meats and tasty olive-oil dressings.

Tea and biscuits are on offer in the late afternoon. Later, there is time to freshen up after your activity, before gathering in the lounge area or on the decking at around 7pm, for a drink and a chat with the lodge managers, senior guides and fellow guests. This is entirely informal (no dinner dress required!).

At your leisure you can then move to your table, where you will be seated for dinner, to the accompaniment of suitably unobtrusive and enjoyably interesting music. Dinner is an impressive five-course affair. We enjoyed bean and vegetable soup, followed by roasted tomato and basil tart, then a choice of four mains including one vegetarian and one local dish (we went for roast leg of lamb with barley). For dessert, we were served white chocolate mousse with a passion-fruit coulis, rounded off with a cheeseboard!

On our visits to Ngorongoro Crater Lodge, dinner has often been accompanied by an entertaining performance from some of the lodge's team who sang a number of African classics, as well as some written specially for guests at the lodge: there's always an excuse to perform!
Dining style: Individual Tables
Dining locations: Indoor and Outdoor Dining
Cost of meal e.g. lunch: Included
Drinks included: Almost all drinks are included, except for some cellar wines, certain spirits and Champagnes.
Further dining info: Ngorongoro Crater Lodge will happily provide room service. They can also set up private lunches on your veranda on request, but this location would be a bit too chilly to do this for dinner.
Special interests
Honeymoons: Ngorongoro Crater Lodge is a beautiful lodge set right on the rim of the Crater. The views create a spectacular backdrop for this romantic property. You'll enjoy fantastic service, extremely luxurious rooms and delicious food. It's a great choice for a honeymoon to Tanzania.
See more ideas for
Honeymoons in Tanzania
Wellbeing: With your own personal butler, crystal chandeliers, claw-foot bath tubs and roses adorning most of the rooms, Ngorongoro Crater Lodge is an incredibly special lodge. Massages are done in your room.
See more ideas for
Wellbeing in Tanzania
Children
Attitude towards children: Ngorongoro Crater Lodge recommends that children should be over the age of 5 to stay here, although children of all ages are welcome.
Property's age restrictions: Children under the age of 11 aren't advised to stay at Tree Camp. While both North and South camps welcome children of all ages, they advise that the lodge is best suited to mature children over the age of 5.
Special activities & services: Since 2012, the lodge has run a 'Wild Child' programme, with warrior-training sessions involving spear throwing, bow skills, fire-making, and wood-carving and beading with the ladies.
Equipment: Baby cots and high chairs are available.
Generally recommended for children: Ngorongoro Crater Lodge is a very smart safari lodge, and some families with young children might not feel comfortable here. Dinner tends to be quite formal, so is not ideal for younger children. Having said that, there were some children staying on our last visit and the staff were very attentive to them.
Notes: Big game – especially buffalo – wanders around the lodge constantly, so children need to be closely supervised at all times. Naturalist walks aren't done with under-12s.
Infrastructure
Power supply: Generator
Power supply notes: Power is available 24/7 and there are plenty of sockets in the rooms.
Communications: There is cellphone reception at Ngorongoro Crater Lodge and complimentary internet access in the shop. There is free WiFi throughout.
TV & radio: There is no TV or radio in the rooms at the Ngorongoro Crater Lodge, however there is a big screen in the wine store for special occasions and sporting events.
Water supply: Transported in
Water supply notes: Spring water from the Ngorongoro Conservation Area (NCA) is supplied to the lodge tanks and tested quarterly. We don't advise drinking it, but apparently it's quite fit to drink. It might be a good idea for the lodge to start providing UV-treated water in jugs, however unlimited supplies of plastic-bottled water are available to guests at no charge.
Health & safety
Malarial protection recommended: Yes
Medical care: There is an on-site doctor at Ngorongoro Crater Lodge, and a dispensary for guests and staff. The lodge vehicles have first-aid kits.
Dangerous animals: High Risk
Security measures: There are watchmen around the lodge for security and at night you will be escorted between your room and the main areas due to the presence of wildlife. The property is patrolled at night to track the movements of anything dangerous around the lodge, such as buffalo. The lodge's main gate is closed between 11pm and 6am.
Fire safety: There are fire extinguishers in the rooms and main areas; each member of staff has been trained how to use them in case of an emergency. In each room there is a fire evacuation plan on the back of the door.
Extras
Disabled access: On Request
Laundry facilities: Laundry is included – it is machine washed and beautifully ironed, and will be returned to you the next day. A quicker one-day service is available if specifically requested, but it is important to note that they will use a tumble-drier to dry the clothes, so it should not be used for delicate items.
Money: Guests may obtain cash against a credit card, but the lodge will make a 5% surcharge.
Accepted payment on location: You can settle any extras using US dollars and euros cash, or with Amex, Visa or MasterCard. There is no charge for the use of credit cards unless you want a cash advance in US$ or Tz shillings, in which case Amex cards are charged at 10% and others at 5%.
The information on this page is our report, of what we saw, felt and experienced personally on our visits.
See Info from the owner for the standard information written by the owner about this property.