With ideas from Expert Africa for tailor-made safaris.
Laikipia is one of the best areas of Kenya for active safaris. With the wildlife conservancies all under private or community management, the standards of conservation oversight and visitor-hosting are second to none. You can track wild dogs using radio-telemetry equipment; go on a wildlife walk through the bush with an armed guide, spotting elephant, giraffe and zebra; ride camels or horses; swim in the lodge swimming pool or plunge in the local river. Wherever you stay in Laikipia, there's a multitude of activities – just not a multitude of other visitors.
Sort by:
Name


|
Duration


|
Group or individual trip


|
Cost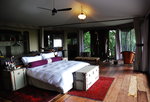 African Finfoot Fly-in Safari
|
8 days
|
Individual trip

US$7,523-10,702
If you're looking for a very comfortable safari that truly captures the spirit of Kenya's extraordinary diversity, then this 7-night, 8-day wildlife-watching trip might be ideal. Incorporating a night at a beautiful, boutique lodge in Nairobi National Park, a ...
More about African Finfoot Fly-in Safari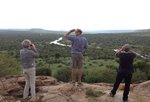 Greater Kudu Fly-In Safari
|
8 days
|
Individual trip

US$4,146-6,811
This exciting safari itinerary includes three nights in wild dog country at a remote bush camp in Laikipia and four nights in the Maasai Mara's Mara Naboisho Conservancy amid large prides of lion, prolific elephant herds and hundreds of thousands of wildebeest and zebra...
More about Greater Kudu Fly-In Safari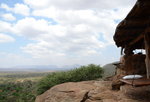 Tawny Eagle Kenya Fly-in Safari
|
5 days
|
Individual trip
US$3,575-3,631
The extraordinary range of landscape and environment are one of Kenya's hallmarks. This exciting, 6-night safari takes you into northern Kenya's remote Lekurruki Community Ranch, with its gaunt cliffs and forests. As well as the likelihood of close sightings of ...
More about Tawny Eagle Kenya Fly-in Safari