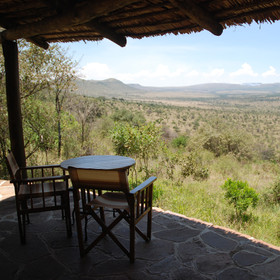 Views from all of the bedrooms here are quite breath taking...
Thatched cottage
The ten stone and Makuti-thatch cottages at Klein's Camp are reached along an uneven path from the main areas. In shape, they replicate African rondavels (traditional African houses). Each has its own paved veranda, complete with a table and director's chairs, so that guests can sit and enjoy the beautiful views of the valley.

Inside, the cottages are cool and calming, thanks to the painted white walls and the polished, wooden floor. There is a large four-poster bed in the centre of the room which is framed by delicate, white drapes – these also double as a mosquito net. A few scatter cushions sit on top of a striped fawn and white bed-spread.

Most of the furniture in the room is made from sleek, dark wood. There is a built-in cupboard, which houses a small electronic combination safe, and shelves on one side of the room. There are a couple of small bedside tables, a chest with glass decanters on, a comfortable armchair and a wicker chair for relaxing in. An easel and a box of drawing pencils sit on top of a wicker table - just in case guests are inspired to recreate the panoramic views on paper!

The room is lit by a couple of rechargeable, wicker lamps which stand either side of the bed. There are also a couple of metal wall lights which sit close to the doorway. This soft lighting accentuates the elegance of these stylish rooms and the beamed ceiling.

All of the bedrooms at Klein's Camp have en-suite bathrooms. These are simple – there is a flush toilet, a shower and a twin sink unit – but they are practical and cool, if a little dim.

The white walls and dark wood of the bedrooms continue in the bathroom – the double sink unit, the towel rails and the bathroom door are all dark wood. There is a large wooden mirror on the walls and a couple of small windows letting in much needed rays of sunlight.

The open-sided shower area is exposed brick and is basic, but at least has hot water. There are complimentary toiletries and white towels for guests use. A hair dryer hangs up next to the sinks and the UK three-pin plug adaptor.

The bedrooms and bathrooms at Klein's Camp are simply decorated, but very comfortable and stylish with thoughtful design touches. The décor, fixtures and fittings are all of a very high standard.