Serengeti Green Camp: Our full report
Most of the Serengeti's camps are substantial, semi-permanent set-ups that remain operational for much longer ...
... than your visit. Serengeti Green Camp is smaller and simpler. It has six modest, but comfortable safari tents, and usually just a handful of staff. The focus here is on walking safaris and game drives in remote areas of the Serengeti. Staying here is also a very affordable way to visit the Serengeti, without compromising the quality of your guiding or game-viewing experience.

Serengeti Green Camp is the antithesis of many of the larger, more established safari camps in the Serengeti. While many camps and lodges place the emphasis on luxurious surroundings, huge tents or rooms and fine wines, at Serengeti Green Camp the focus is all on the wildlife, wilderness, and the safari experience first and foremost.

The camp is designed to bring guests closer to nature, with plenty of outside seating and a dining table set up under the stars. For the occasional rainy spell there is an open sided lounge tent, with comfy beanbags and tables fashioned out of rustic wooden crates. There is a smattering of wildlife guides and photo books and friendly staff on hand to offer you a drink. A welcoming campfire is lit each evening, creating the perfect focus to enjoy a pre-dinner drink and relive the day's experiences with your guide and other guests.

The six safari tents are simply furnished with comfortable double beds, padded chairs and bedside tables. Decorative beaded lamps create a cosy atmosphere in the evenings. While they're fairly modest in design, the tents are very comfortable and surprisingly stylish, with soft woven throws on the beds and billowing cream curtains.

Each tent has an en-suite bathroom to the rear, which is simple and perfectly functional. There is a composting toilet with pails of wooden shavings to keep it fresh (a very efficient system that we found worked well), a wash basin and jug of water, and a safari shower, fitted with a standard shower head and filled with hot water on request.

Serengeti Green Camp moves twice each year to roughly follow the wildebeest migration. From November to March the camp is typically located in the central/southern Serengeti around Nabi Hill. Then from June to October it moves up to the northern Serengeti, around Kogatende. The team at Serengeti Green Camp try to keep off the beaten track and actively avoid the busier areas of the Serengeti when booking their sites. They locate the camp on the fringes of the migration zone, with good access to the vast herds of wildebeest, but aiming to avoid the large numbers of vehicles associated with the more popular regions.

The focus here is on getting out and experiencing the Serengeti and the migration away from the crowds. While game drives are possible, the camp really specialises in walking safaris in remote areas. Walking gives you a different perspective and a greater awareness of your surroundings: you notice the grunting of the wildebeest, the crackle of dry grass underfoot and the circling vultures above much more keenly when you're walking in this remarkable environment.

After days of being vehicle-bound it can be very refreshing to be out on foot like this. Rather than simply seeing the wildebeest from a vehicle, for example, Serengeti Green Camp's experienced walking guides lead you across the open plains, and you'll feel the exhilaration of walking among the migrating wildebeest as if you were a part of the herd itself.

Serengeti Green Camp encourages longer multi-day walks, giving you the chance to roam further and explore areas which are inaccessible to many safari vehicles. When on longer walking safaris you normally stay in their Serengeti Walking Mobile Camp, which is set up for you every night. This consists of small dome tents, with a separate bathroom tent, and a small mess tent which serves as a lounge and dining area. You really are in the wilderness on a walking safari like this.

These walking camps are relatively quick to set up, meaning that it is very easy to move and change location in order to follow the migration.

Safaris to Serengeti Green Camp are always with your own private vehicle and guide. This allows for lots of flexibility in terms of the timings of game drives and safari walks. While you might be sharing the camp with other guests, your activities will be private to you and your party.
Our view
A private safari – led by a very knowledgeable guide and coupled with relatively comfortable camping – is hard to beat. Many experienced safari goers would say that a set-up like the Serengeti Walking Mobile is how a safari in Africa should be experienced, and they'll book a whole trip like this. Other travellers might opt to mix some time in a mobile camp with a more vehicle-based safari using permanent camps, to reduce the cost of the trip without compromising on the activities.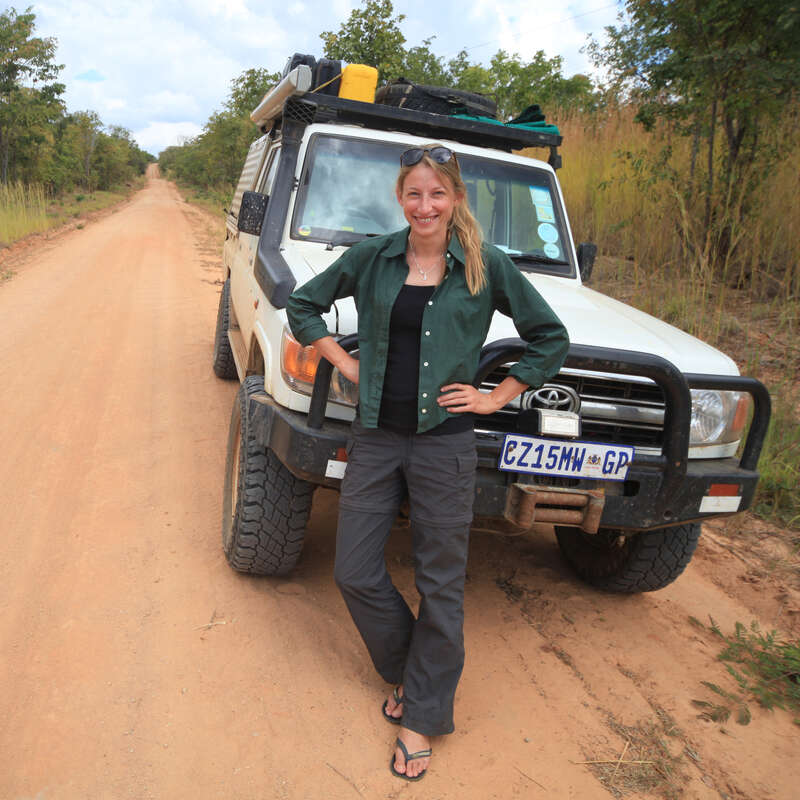 Country manager: Tanzania
Geographics
Location

Ideal length of stay

A 3-night stay in a Serengeti Green Camp is ideal. Combine your time here with stays in lodges and/or a stay in a Serengeti Walking Mobile Camp.

Accessible by
Food & drink
Usual board basis

Full Board & Activities

Food quality

All the ingredients are brought in fresh and meals are produced from scratch. Food is cooked over an open fire or in a specially crafted oven covered in coals. From humble beginnings emerge simple, hearty and very appetising meals.

Each day begins with a fairly light breakfast as the aim is to head out early while the wildlife is at its most active. The selection typically includes porridge, muesli, toasted fresh-baked bread with spreads and a selection of tropical fruit – accompanied by tea, hot chocolate, or aromatic filter coffee from beans produced in nearby Arusha.

Lunch is usually made up of a hot dish with a couple of salads. During our last stay we enjoyed freshly made pizza, a flavoursome meat pie and roast chicken with chips. Salads varied between garden salads, creamy potato salad, coleslaw and capsicum salad. Home-made chocolate-chip cookies kept us going in the afternoons.

The day normally ends with a three-course dinner, often starting a good, simple soup. This is followed by a main course served to the table, allowing you to help yourselves. During our stay we sampled well-balanced curries served with rice and condiments on one night, and marinated steak served with vegetables and crunchy potatoes the next. Our dinners were finished off with a light apple fritter and a jam-filled chocolate Swiss roll. We were always glad of some time to relax and digest around the campfire afterwards.

Dining style

Group Meals

Dining locations

Indoor and Outdoor Dining

Drinks included

While in your mobile camp, tea and coffee, water, wine, beer and soft drinks are included along with gin and tonic. Other spirits can be requested in advance but may incur an extra charge if you want premium brands. Game-drive vehicles include a cool box or fridge stocked with a selection of complimentary drinks and the option of tea or coffee from thermoses.
Children
Attitude towards children

The team who run our Serengeti Green Camp will accept children of any age, as each safari is private.

Generally recommended for children

Expert Africa feel comfortable recommending safaris like this for families with children over the age of about 12, partly for reasons of safety, and partly because there is little to keep youngsters entertained between activities. If you have children under this age, and these comments don't deter you, please talk to an Expert Africa specialist.

Notes

If you are travelling with children of any age, please note that these camps are unfenced and animals pass through them often. Children must be under constant and close supervision.
Communications
Communications

There is cellphone reception across most of the Serengeti, and each camp team carries a cellphone in case of emergency. If you travel with your phone you must have it switched off or on silent during game drives.
Health & safety
Malarial protection recommended

Yes

Medical care

Each safari guide is trained in basic first aid and carries a first-aid kit. The flying doctors service, based in Arusha, is a phone call and a short flight away.

Dangerous animals

High Risk

Fire safety
Activities
4WD Safari

Birdwatching

Guided walking safari

Hot air ballooning
Extras
Disabled access

Not Possible

Laundry facilities

A basic laundry service is available on request. Clothes are hand washed and returned folded, not ironed. As you'll most likely visit a private mobile camp in combination with hotels or lodges in the Serengeti, it may be best to wait until then to do your washing.

Accepted payment on location

The only money you'll need is for tips, which you can pay in US dollars or preferably Tanzanian shillings.
Room types at Serengeti Green Camp
Green Camp Description
Each Serengeti Green Camp is set up for the private use of one group: though the campsite itself will be shared with others! In some areas the same site may be used to set up camps for up to four different groups all using a central kitchen. However, these sites cover large areas and so, whilst you may be able to see another tent in the distance, there is generally a couple of hundred metres between camps and each will have its own private facilities.

Accommodation is in canvas dome tents usually measuring 2.5 x 2.5m with space to stand up in the middle. The tents typically have three windows and a zip-up door (some tents are larger but only have two windows). Furnished with thick mattresses, linen, duvets, pillow and blankets, these tents are perfectly comfortable. Each has a battery-operated light above the door and a solar-charged lantern by the bed. Netting is staked out under the tent's awning to create a porch where you can relax in a camp chair between activities.

A canvas washbasin is filled with water – warm in the mornings and cool during the day – and set in a wooden frame stands outside each tent. A short distance from the tents is the bathroom: a canvas structure with two compartments: one houses a bucket shower and the other a bush toilet. Whenever you want a shower, you just ask the camp assistant. S/he will heat the water over the fire, and fill the bucket for you – leaving you to simply stand underneath and turn the nozzle for a hot shower. A box with in-built seat, over a dug pit, forms the bush toilet which is 'flushed' using small buckets of dirt.

At the heart of each camp, a dining tent with one open side provides both shade and sheltered dining in the unlikely event of rain. It is also where water and cool drinks are readily available. Nearby is a campfire surrounded by canvas chairs, where you will meet for breakfast and pre-dinner drinks. Each night the camp is lit by paraffin lanterns hung on metal stakes.

A team of camp staff takes on all the camp chores whilst you concentrate on wildlife viewing with your guide. A chef prepares fresh meals of a surprisingly good standard, especially given that they are all prepared over a camp fire and in a makeshift oven. These are served at a table set up in various locations around the camp, often under the stars!
Other lodges in Serengeti Migration Area
Alternative places to stay in this same area.
---