Useful links featuring Toshari Lodge

Read in more depth...
Click on the link below to read sections from the Bradt guidebook which are related to Toshari Lodge.
Toshari Lodge
Put Toshari Lodge into context - read more about it in the Bradt guide
Useful links...
We want you to understand more about Toshari Lodge. We're not shy to direct you to their own website as we're confident that a trip there with us will cost you the same or less than booking it any other way, even directly. So follow the links below for more information.
Etosha Gateway - Toshari Inn
Click here to visit the Etosha Gateway homepage. Here you will find some basic information and one or two photos of the lodge
Toshari Lodge is often combined with:
Sort by:
Name


|
% of trips


|
Traveller's rating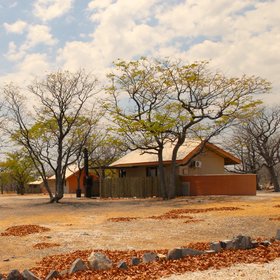 Halali Camp
|
67%
|


Strategically located alongside the middle of Etosha Pan in Etosha National Park, Halali is one of five government-run camps and lodges inside the park. It stands beside one of the very few hills in Etosha, with its own floodlit waterhole, and is the smallest and quietest ...
Read more about Halali Camp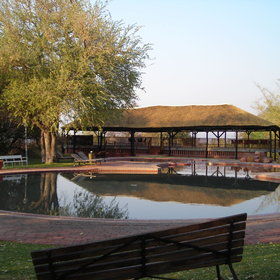 Waterberg Camp
|
67%
|

Waterberg Camp is the new name for the government-run restcamp which used to be called Waterberg Plateau Resort. It was originally known as the Bernabe de la Bat Restcamp, and in many ways the description of 'rest camp' is much more accurate than either the new term 'camp', ...
Read more about Waterberg Camp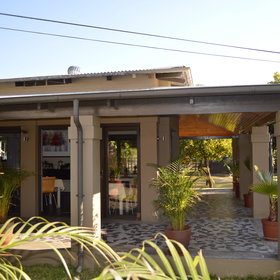 Villa Violet
|
67%
|

Villa Violet is a small guesthouse run by helpful owners, Ben and Heidi Dassac. Situated in the suburb of Klein Windhoek, just a five-minute drive from the city's central business district, it's a convenient and comfortable base for an overnight stay in Windhoek at the ...
Read more about Villa Violet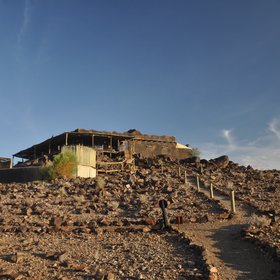 Doro Nawas
|
67%
|


Doro Nawas Camp is perched on top of a rugged, rocky hill, on the floodplains of Namibia's dry Aba Huab River. Solid, castle-like and almost foreboding in appearance, it has open and attractive views across the plains to the mountains and sandstone cliffs of Twyfelfontein...
Read more about Doro Nawas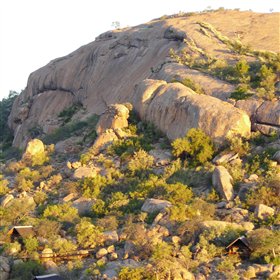 Erongo Wilderness Lodge
|
67%
|

Just west of Omaruru, Erongo Wilderness Lodge perches amidst the rugged granite kopjes of Namibia's Erongo Mountains, in the vicinity of an ancient volcanic crater. The lodge is a founder member of the 2,000km2 Erongo Mountain Nature Conservancy, which brings together 30 ...
Read more about Erongo Wilderness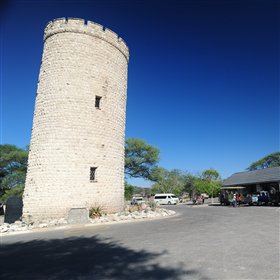 Okaukuejo Camp
|
33%
|

Okaukuejo Camp (formerly known as Okakwiju), meaning a woman who bore a child each year, stands at the western end of the famous Etosha Pan, about a half-hour drive from the Andersson Gate, the southern entrance into Etosha National Park. Although a larger camp than most ...
Read more about Okaukuejo Camp
White Lady B & B
|
33%
|

White Lady B & B is in the sleepy town of Uis. A thriving community was once centred on a large tin mine here, but the mine closed a few years ago and now the town follows a much quieter pace of life. The guesthouse is situated in the centre of this small town and offers ...
Read more about White Lady B & B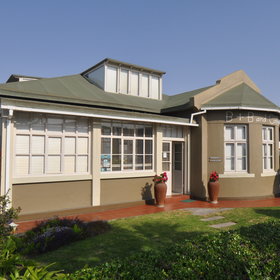 Brigadoon
|
33%
|


If you enjoy a bit of seclusion, then Brigadoon, set in the well-established gardens of the owner's house, is in a quiet residential area of Swakopmund, not far from the beach and within a couple of minutes' walk of the town centre. Brigadoon is a boutique bed and breakfast ...
Read more about Brigadoon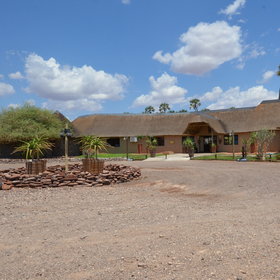 Palmwag Lodge
|
33%
|


Palmwag Lodge sits in an attractive location next to a palm-lined spring in the Uniab River, which often flows with water and draws elephants close to the lodge. This is one of northern Damaraland's oldest lodges, and it's able to accommodate a significant number of people...
Read more about Palmwag Lodge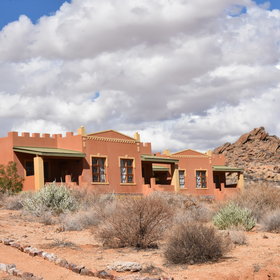 Desert Horse Inn
|
33%
|

The owner-run Desert Horse Inn stands on the Klein-Aus Vista reserve, which is reminiscent of a 'Western' movie set. It's about 1,400m above sea level, in a totally unspoilt semi-desert area, with wide-open plains against a backdrop of mountains. As well as offering some ...
Read more about Desert Horse Inn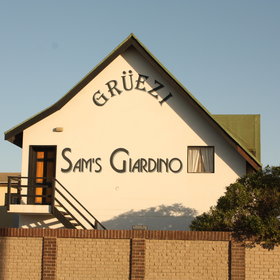 Sam's Giardino
|
33%
|


The comfortable Sam's Giardino is set in an attractive garden, a few minutes' walk from the centre of Swakopmund. Run by its enthusiastic Swiss owner, Sam Egger, with the aid of his exuberant dog, Beethoven, it is welcoming, homely and slightly offbeat. Many of Sam's helpful ...
Read more about Sam's Giardino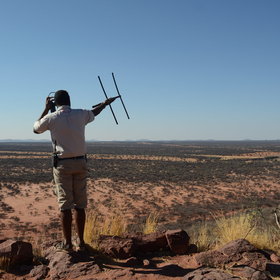 Okonjima Plains Camp
|
33%
|


Set amidst plains and rolling hills in a 220km2 private reserve just south of Otjiwarongo, Okonjima Plains Camp opened in 2014. It is the most affordable of the places to stay on the Okonjima Nature Reserve, whose raison d'etre is the AfriCat Foundation, set up to conserve ...
Read more about Okonjima Plains Camp