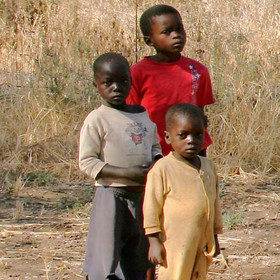 More than 300 children are supported by Hanada Orphanage.
Hanada Project
The Hanada Project was initiated by Mrs Hilda Hampondo, together with some local ladies who wanted to try and help orphans in the local Mfuwe area. They rented premises with the help of NGOs, donations and local charities, and started supporting the extended families of orphans with all kinds of goods, including seeds, food and clothes.
In 2007, Mrs Hampondo and her team approached Derek and Jules Shenton – the owners of
Kaingo
and
Mwamba
camps in South Luangwa National Park – and asked for their support to build a proper infrastructure on a new site close to Mfuwe International Airport, which was kindly donated by Chief Mhukhanya. In collaboration with Derek and Jules, the ladies from Hanada proposed a building plan for an orphanage.
Phase 1.
During 2007, a well was built on the site to make fresh water for drinking and washing available. Water is also needed for the mixing of building materials, and with the construction of a well, the cornerstone for the building project was laid.
Phase 2.
The building work continued after the rains in early 2008, and by the end of the year, the office/kitchen/storeroom building was completed. The rooms are currently used for a sewing project.
Phase 3.
Phase 3 started in June 2009, and consisted of several projects. One was the construction of a
chitenge
, a large thatched roof building, to function as an area for children to play and eat. A long drop toilet and the sinking of a bore hold were also completed.
This third phase further includes the construction of a chicken run housing 50-70 chickens, and the preparation of land to grow vegetables. Eggs and vegetables will then partly supply the children with food, and partly be sold at a local market in Mfuwe to support the building project and the education of the orphans. A food programme is also planned, which will hopefully supply as many children as possible with one square meal per day and additional care packages; families in desperate need of food will be supplied with further monthly packages.
Almost all of the money for this work came directly from Derek and Jules, partly supplemented by guest donations.
In 2009 Derek and Jules also heard about the desperate cause of Veronica Lungu - one of the vulnerable children in Mfuwe who was suffering from a sever goiter that effected her eating and breathing. Veronica spent many months in Lusaka based in Derek and Jules family home, whilst she underwent various treatments to have the goiter removed. This has now been successfully done and she has even retained her voice!
Hanada's sewing project
To further support the Hanada Project, Derek and Jules donated the time of their tailor to help Mrs Hampondo initiate a sewing project. He trained two of her team and Mrs Hampondo herself, in how to use sewing machines – a number of which were kindly donated to the ladies. They are now producing wrap skirts and children's clothing, which are then sold at the craft market in the grounds of
Tribal Textiles
.
The Future of the Hanada Project
In 2009, Jules and Derek grouped together with other lodges keen to make a difference in South Luangwa and formed 'Project Luangwa'. This is with the idea of ensuring that the people of the Luangwa Valley gain the full benefit of tourism – by supporting community and education projects as well as local business development. The participating lodges have added a conservation and community levy to their rates which funds the administration costs of Project Luangwa. This means that 100% of any donations made to projects can do directly to them.
Though Derek and Jules are still very much involved with the Hanada project and remain entirely responsible for its fundraising – Hanada now falls under the administration of Project Luangwa. In conjunction with Project Luangwa, it has now been decided that a better use of the orphanage site and buildings would be to start a pre-school for vulnerable children. In Zambia grades 1-7 are free, whereas pre-school is only available for a fee that most extended families simply can not afford. Whilst the funding and building of a full orphanage and accommodation may take many years – a pre-school can offer support to these children much more immediately.
It is hoped that the sewing project and further donations will support the teachers wage, and the development of the vegetable garden to provide as many children with one square meal a day as possible.
Expert Africa's contribution
As expected, a lot of money is needed to successfully complete and run a pre-school, and at the same time further support the orphans. For example, the drilling of the borehole (including a water tank and piping) cost around US$10,000, and the construction of the ablution blocks approximately US$3,000.
Expert Africa
is always happy support charity projects we approve in, and therefore we donated a certain amount of money to Hanada Orphanage, which went into the construction of the office/kitchen/admin building.