Mwamba Bushcamp: Our full report
Small, intimate and very remote, Mwamba Bushcamp is set beneath the shade of magnificent ebony trees.
It's a calm, comfortable camp, steeped in nature, and overlooking a waterhole in the usually dry bed of the seasonal Mwamba River.

Owned by Derek and Jules Shenton - a seasoned conservationist and a keen photographer respectively – Mwamba is Kaingo Camp, lovely satellite bushcamp. Their dedication to wildlife, wilderness, sustainability and Zambian tradition is evident throughout their camps.

About 6km north of Kaingo, many guests choose to start their Mwamba adventure with a morning's walk from Kaingo, arriving in time for a delicious alfresco lunch.

The four thatched chalets at Mwamba Bushcamp are simple, with reed walls and solid, polished floors, their natural tones offset by crisp white linen and delicately beaded cushions and throws and fabric mats on the floor. All of the chalets have twin or king-size beds and the chalet furthest from the main area, designated the honeymoon suite, has a larger veranda and a bit more privacy than the other chalets, though the small nature of this camp ensures space for everyone.

Each bed has a large walk-in mosquito net, tied back with pretty beads, that encompasses bedside tables and solar-powered lights. Large gauze skylights above give the feeling of sleeping under the stars, with handy covers for the rainy season and against the strong sun at the end of the dry season. Outside each chalet is a shaded veranda with a wooden table and chairs overlooking the riverbed.

A comfortable chair sits next to a standing fan, and the charging table has multinational and USB sockets. A small wooden lockbox is provided, along with mosquito repellent, whistle and radio.

Simple wooden furniture suffices, providing plenty of space for storing your belongings, with shelving, a stand for suitcases, a small wardrobe and a charging table. A large ebony tree recently fell into the main area, and you'll find the wood has been used to create many of the camp's newer pieces of furniture, including these tables!

Attached to each chalet is a large, open-air bathroom, which is enclosed by a tall reed wall and has a real bush feel. Built around enormous ebony trees for shade, they have sandy floors covered with grass mats. Although simple, they still have flushing toilets, natural stone basins and, currently, hot bucket showers which are filled for guests after their game drive. Cold water is available from the showers all day, which provided some welcome relief from the afternoon heat on a previous October visit, and water can be heated on request. We understand that the bathrooms will be modernised during 2023 to incorporate gas-heated showers for a more plentiful and consistent water supply, along with polished stone floors for additional comfort.

The open chitenge (main area) at Mwamba is very simple and natural, with sandy floors and a low reed wall, and is lit at night by a combination of solar-powered lights, candles and paraffin lanterns. The central bar here is a real feature: built around a huge ebony tree entwined with python vines that support the drinks shelf. It's a great spot for a social drink before meals! There are also some cushioned chairs and a sofa, plenty of reference reading material and a great view of the surrounding bush, with huge sausage trees and their flowers an open invitation to nearby animals to wander past to feed, to keep you entertained.

Our meals at Mwamba were delicious - complemented by the fact that the majority of the fresh produce used in the camp's kitchen is grown or produced in the Shentons' large garden plot, just outside Mfuwe. Dinner is usually served communally in the main area, at a large wooden dining table (which Derek made), whilst lunch and breakfast are generally taken under a thatched gazebo overlooking the Mwamba River.

Like Kaingo, Mwamba Bushcamp has a couple of stunning photographic hides overlooking perennial waterholes; these are frequently remodelled to give guests the best views of the surrounding location. One of these, The Last Waterhole Hide, is situated within the camp itself, exclusively for Mwamba guests' use; on our last visit in October 2022 we spent several enjoyable hours here, watching a wide variety of birds and animals, from Cookson's wildebeest and lion to mongoose and queleas, coming down to drink. The hide now has a webcam set up to capture the action - it's not as good as the real thing, but it may help with withdrawal symptoms once you're back home!

On request, guests at Mwamba can also make use of the carmine bee-eater hide, which is shared with Kaingo and is best in September and October. For those really interested in hides it would be ideal to combine a stay at Mwamba with Kaingo, which has a hide dug into the riverbank parallel to a hippo filled section of river. Kaingo also has a platform in a high riverside tree next to a regularly used crossing point, allowing for some fantastic photo opportunities.

These hides have been used by the BBC, National Geographic, Discovery Channel and many independent film-makers and photographers, including François d'Elbée.

Activities from Mwamba include walking safaris, game drives (day and night) and visits to the hides, all led by excellent guides. Unusually for most safari camps, Mwamba – like Kaingo – can operate three activities per day, with the one of these in the middle of the day being a visit to one of the hides, or perhaps time spent sitting by a nearby lagoon, for photography.

On a typical day you'll be woken to the sound of drums (usually 5.00–5.30am), followed by a quick breakfast around the campfire, before setting off on an early morning game drive or walking safari. You will usually return to camp around 10.00am, then brunch will be served, after which there's an opportunity to siesta or, as the majority of guests prefer, to head out to one of the hides. The hide close to camp is particularly good in the late morning, usually allowing close-up views of impala, buffalo, elephant and bushbuck as they come down to drink, as well as a myriad of different bird species. The waterhole can sometimes be much quieter – because the local "Mwamba" pride of lions likes to head down to nap next to the water!

Afternoon tea is served down by the dry riverbed before your afternoon activity.

Some guests choose to venture further afield on a full-day excursion. A half-day drive from Mwamba Bushcamp is a stunning "baobab forest" where you will find hundreds of 200–300-year-old baobab trees. Here, there is also a good chance of seeing some of the more elusive antelope such as eland, roan and hartebeest.

If you'd like to end off your day in camp – rather than out on an afternoon or full-day activity – then Mwamba has a great spot for sundowners! Just behind the camp Derek and his team have created a comfortable thatched seating area on top of a termite mound, with wide views over the bush.

With advance notice, guests can even enjoy a magical night's sleep at Mwamba's Numbu Starbed – a small platform on stilts overlooking the Numbu Plains and best enjoyed at new moon to experience the clarity of the night sky. Accessed by steps winding up to the platform, it has a small en-suite bathroom at the bottom of the stairs (all enclosed so to detract any would-be visitors!), and a large double bed at the top, swathed in a walk-in mosquito net. Here, with a two-way radio, whistle and torch are provided, you are self-sufficient for the night, and will be left to enjoy the spectacular skies. It's a spectacular experience and we loved it, but the camp will keep a chalet room ready and waiting for anyone who feels overwhelmed. The star bed is usually at additional cost, but for stays of seven nights or more across Mwamba and Kaingo, a complimentary night on one of the star beds is included, and we would highly recommend it.

For the truly adventurous, guests at Mwamba can also embark on the exhilarating Mwamba Camp-out, which is one of the truest wilderness experiences in the South Luangwa. After heading deep into the bush to Kapanda Lagoon on an afternoon walk with a senior guide and armed scout, you'll camp out for the night under the stars, with your bedroll set under a mosquito net beside the fire.

Like Kaingo, the Mwamba area has a very good diversity of game and birdlife. With varied habitats including wide open plains, mopane woodlands, waterholes, lagoons, thick riverine bush and the Mwamba River itself, expect to see plenty of zebras, Cookson's wildebeest (it's probably the best place in South Luangwa for these endemic animals), puku, impala, elephant, giraffe, waterbuck and bushbuck. We even saw the more timid eland on our last visit, and the ebony grove between Mwamba and its sister camp, Kaingo, is an incredibly good spot for the resident leopards. On a night drive you'll also have a good chance of seeing leopards, porcupines, civets and the white-tailed mongoose.

Whilst only novice birdwatchers, we have during various short stays spotted many species of kingfisher (including pied and brown-hooded), as well as fish eagles, lilac-breasted rollers, white-browed coucals, giant eagle owls, lovebirds, weavers and even a greater painted snipe.
Our view
The camp's name, Mwamba, means 'heaven' in the local Nyanja language, and we'd have to agree that a few nights spent here come pretty close!

We've visited Mwamba often since about 1995, most recently in October 2022. We love the true bushcamp feel that comes from Mwamba's secluded location and the curated simplicity of the camp's design. It's managed to achieve the perfect balance between African adventure and modern comfort: lovely reed rooms furnished with comfortable beds and pretty linen, super, outdoor en-suite bathrooms and consistently fantastic food. We also love the flexibility of the activities here (especially the hides!) and the obvious passion of the guides.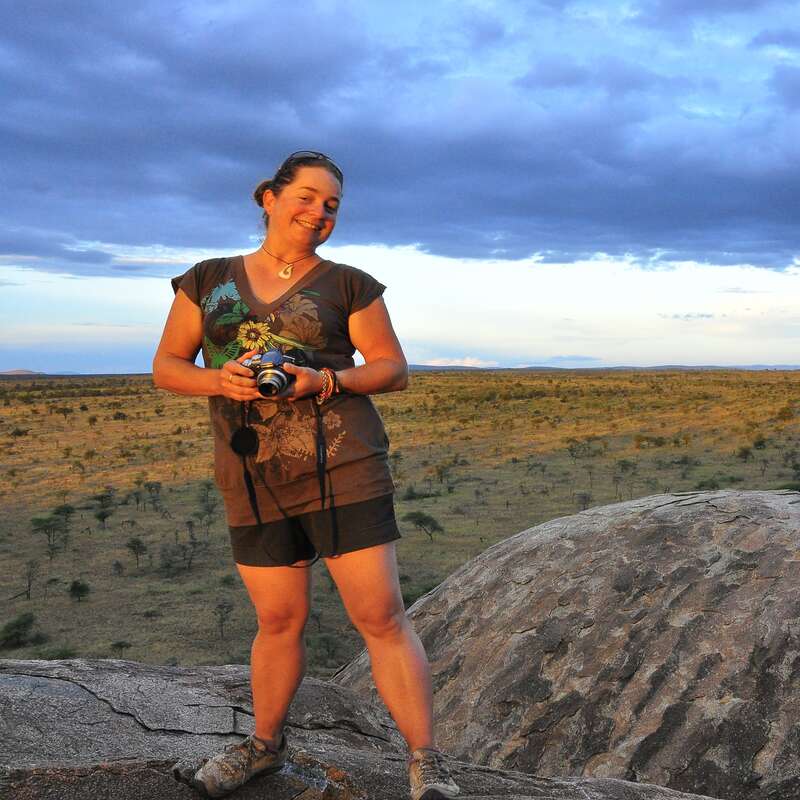 Geographics
Location

Ideal length of stay

We recommend a minimum of three nights at Mwamba Bushcamp, or 5–8 nights for a combined stay at Mwamba with its sister camp Kaingo.

Directions

Fly to Mfuwe airport, then transfer by road to camp. The drive, partly through villages, partly through the national park, takes approximately two hours, depending on the wildlife you see along the way.

Accessible by

Fly-and-Transfer
Food & drink
Usual board basis

Full Board & Activities

Food quality

The team at Mwamba know how to keep both your days and your stomachs full! On our last trip to Mwamba Bushcamp, in October 2022, the food was very good. We are always amazed by the quality of food that the chefs can produce in their bush kitchens. With advance notice, the camp can also cater for vegans and vegetarians, also to a wide range of dietary requirements.

Breakfast is served around the campfire before the early morning activity and generally consists of tea and coffee, plus a selection of cereals, fruit and yoghurt, as well as freshly baked muffins or rusks.

When you return to the camp around 11.00am there's a very relaxed buffet brunch - we chose from spinach and egg filo pies, an Asian chicken noodle salad, red pepper pizza, grilled corn on the cob, broccoli salad and chicken brochettes, served with freshly baked bread and a selection of chutneys and sauces.

Afternoon tea is served at around 4.00pm, before your evening game activity – with sweet and savoury choices on offer, as well as drinks. On our last visit we chose from red pepper and cream cheese croutons and a delicious passionfruit cake.

Dinner is a set, three-course plated meal, accompanied by your choice of red or white wine. On a previous visit, we enjoyed light and crispy tempura vegetables with a soy and chilli dipping sauce for starter, then a lamb and barley stew, followed by a delicious rooibos panacotta with raspberry coulis.

Dining style

Group Meals

Dining locations

Indoor and Outdoor Dining

Further dining info, including room service

No

Drinks included

All drinking water, soft drinks, house wine and local spirits are included at Mwamba.
Special interests
Birdwatching

The waterhole hide at Mwamba Bushcamp, or the private veranda outside each chalet, are great spots for birdwatching in Zambia. Thousands of carmine bee-eaters can also be seen from the camp's hide, below the nearby riverbank, between Sep – Oct.
See ideas for Birdwatching

Photography holidays

Mwamba has two hides allowing you to get close to the wildlife, great for photography holidays in Zambia. In addition, all Mwamba's vehicles have clamp stabilisers, beanbags and camera dust covers – and their guides are acutely aware of what photographers want.
See ideas for Photography holidays

Walking safaris

Mwamba lies in a game-rich area which, combined with expert guides, makes it a great spot for walking safaris in Zambia. Guests combining their stay at Mwamba with its sister camp, Kaingo, can walk from camp to camp.
See ideas for Walking safaris

Wildlife safaris

The game hides at Mwamba camp are one of its main attractions, and they allow you to see some fantastic wildlife. The game-rich area and high-quality guides make this a great camp for wildlife safaris in Zambia.
See ideas for Wildlife safaris
Children
Attitude towards children

Mwamba is happy to take children over the age of 12 who are sensible and well-behaved.

Property's age restrictions

Mwamba has an age restriction of 12 years, though this can be flexible for group family bookings.

Special activities & services

None.

Equipment

There's no room in the chalets for an extra bed for a child, so those staying with children would need to split into different chalets to ensure that each child is sharing with an adult.

Generally recommended for children

This is a remote bushcamp that is better suited to older children.

Notes

Parents need to be aware that Mwamba is not fenced and animals do walk through the camp. On previous visits here we have had elephants in camp and a lion walk past our chalet. Children must never be left unsupervised.
Our travellers' wildlife sightings from Mwamba Bushcamp
Since mid-2018, many of our travellers who stayed at Mwamba Bushcamp have kindly recorded their wildlife sightings and shared them with us. The results are below. Click an animal to see more, and here to see more on our methodology.







Spotted Hyena
97% success





Roan antelope
13% success

Sable antelope
4% success


Communications
Power supply notes

A dedicated solar-powered battery panel ensures each chalet has enough power to run the lights, the standing fan and the 24-hour charging points for electronics.

Communications

This is a bush camp, without a direct phone line or cellphone reception (aside from the local Zamtel network – which doesn't seem to work on international cellphones). However, there is WiFi in the camp's main area, albeit with limited bandwidth.
Mwamba does have a radio and keeps in touch with Kaingo and other camps in the park.

TV & radio

There are no radios or TVs here.

Water supply

Borehole

Water supply notes

The handbasins are plumbed in and each room has a flush toilet. Bathrooms have bucket showers that are filled up with hot water for when you return from your afternoon game drive, or at other times on request.
Sustainability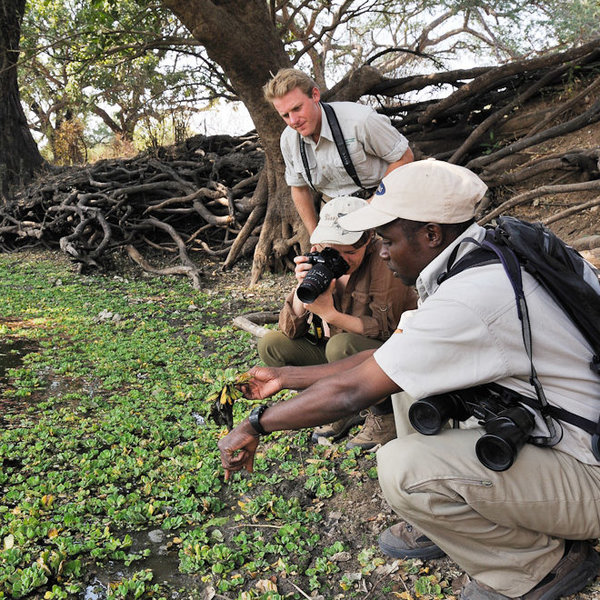 Authentic stay boosted by home-grown ingredients
Owned by Shenton family who has a proud history of three generations of wildlife conservation, Mwamba Bushcamp strives to create each experience #NourishedByNature, from the energy used in the camp solely powered by the sun ensuring nothing interferes with nature sounds, to the close-up wildlife hides, specially designed by the owner. Located deep in the South Luangwa National Park, far from the busy Mfuwe area to further limit its carbon footprint, Mwamba's farm-to-fork initative comes to highlight the camp's dedication to environmental protection.
The majority of the ingredients used in cooking guests' meals are home-grown in an organic garden right outside the camp. The plot allows Mwamba to offer an array of quality fresh herbs, vegetables and fruit which would not be available otherwise. It also and acts as a playground for the hens supplying the camp with eggs used for brunches and in baking. Not only does the camp have an ongoing fresh herb supply throughout the season, but it also uses seasonal fruits and vegetables which make up the bulk of ingredients in guests and staff meals.
Additionally, to educate tourists on the importance of home-grown ingredients, Mwamba ensures that guests are aware of the origins of the ingredients. When presenting the menu, the Executive Chef reiterates which of the meals are created solely from the Shenton Plot. Guests also get the chance to stop at the plot on either their arrival or departure while the staff briefly stops to collect fresh products for the camp, and get to see the lush gardens.
At the moment, careful waste management is used to benefit the nutritious compost fertilizing the plot and bring a minimal environmental impact on the area.
See more great sustainability projects in Zambia
Health & safety
Malarial protection recommended

Yes

Medical care

Members of management are first-aid trained. The closest doctor is in Mfuwe (90 minutes' fast drive away). For medical emergencies, Mwamba has links to a flying-doctor service.

Dangerous animals

High Risk

Security measures

Guests are not allowed to walk around alone after dark, and will be escorted to their chalets after dark. There is a whistle in each room, in case of an emergency.

Fire safety

There are fire extinguishers located at every chalet and around the camp.
Activities
4WD Safari

Birdwatching

Cultural excursion

Fly-camping

Guided walking safari

Night drive
Extras
Disabled access

On Request

Laundry facilities

A complimentary laundry service is included, except for ladies' underwear, for which washing powder is provided in the bathrooms.

Money

No exchange facilities are offered.

Accepted payment on location

Everything, excepting gratuities, is included at Mwamba, but additional payments may be made in cash only; kwacha – the local currency – is preferred, but US dollars are also accepted. PayPal can also be used – with a 5% surcharge.
Other lodges in South Luangwa National Park
Alternative places to stay in this same area.
---