Tafika: Our full report
Home to the Coppinger family, Tafika is a small and outwardly rustic camp on the banks of the Luangwa River.
Its location, on the northern side of the beautiful Nsefu Sector within in Zambia's South Luangwa National Park, makes Tafika – along with its two satellite bushcamps on the other side of the river – the most northerly of South Luangwa's safari camps. This allows most activities to be carried out in quiet areas of the park, where you'll invariably have wildlife sightings to yourself

We've delighted in visiting Tafika regularly since 1995, when John and Carol – the founders of Remote Africa Safaris – first moved here. We've seen it gradually evolve and refine over time but its heart and character has never really changed. And that is exactly why we love it!

Tafika has six chalets made to a high standard from locally sourced poles, reed and thatch. These include four doubles or twins, a honeymoon suite and a larger chalet sleeping up to four guests.

The four double/twin chalets are almost identical in layout, each with two very comfortable queen-size beds made up with quality cotton bedding and colourful local textiles under their own large walk-in mosquito nets. As with everything else here, the rooms are spacious and comfortable, but not ostentatious – and very much in keeping with the feel of the bush. The floors are polished stone, scattered with locally made reed mats; there's simple, polished wooden furniture and large decorative clay pots. The room is lit by efficient, solar-powered lights and boats a solar-powered fan for the warmer months, as well as a bank of USB port chargers for phones (there's a solar camera charging station (220V) in the main area too).

A small veranda to the front of each chalet has a couple of chairs overlooking the Luangwa River. And a door at the back of the chalet leads to a private and enclosed bathroom that's completely open to the sky. Here, there's a large shower, with piping hot water at the turn of a tap, twin washbasins and, inside a small thatch-roofed hut – a very normal flushing toilet!
Tafika's honeymoon suite is very similar to the other chalets, but has a double his-and-hers shower and a king-size bed, plus a desk and some extra comfy chairs.
Tafika's sixth chalet, which we often call the family chalet is very different. Its reed-and-thatch construction is the same as the other chalets, but it's super-sized, with two large, adjacent bedrooms, separated by a central hallway, and a shared bathroom area: albeit with two separate toilet areas and two outdoor showers. It's ideal for a family or two couples travelling together, and comfortable to share some communal areas. Each bedroom has a large, walk-in mosquito net covering either a king-size bed or two doubles, simple furnishings and lovely linens. The thatch is high and the rooms are comfortable, shady retreats. The back of the chalet opens out to the open-sir bathroom, with a shared double sink area and two, mirror-image toilet and shower areas, one of the latter being cleverly built around the trunk of a massive Kigelia africana or sausage tree, to give a little more privacy.

Tafika's main area is a large open-sided structure with a high, thatched roof that incorporates a comfortable lounge area, a small but well-stocked bar (which is always open and with a smiling staff member to assist you) and a dining area. Meals, eaten together at social circular tables, are deliciously fresh and imaginative, with produce grown in Tafika's superb fruit and vegetable garden – itself worth a visit! It's a terrific opportunity to chat about wildlife sightings and hear tales from the bush from the knowledgeable Remote Africa team. On our last visit, we dined together with other guests and some of the team, though private dining is available if guests prefer. When they're in camp, which is usually all season, John and Carol, or their daughter Jennifer and her husband Nick, as well as long-standing members of the team and guides, will join everyone for lunch – and occasionally also for dinner.

The standard of cuisine is consistently impressive, served politely and without fuss. If you're interested, one of the staff will be more than happy to take you on a 'back-of-house' tour where you'll see that, despite being largely open, the kitchen is a hive of professional activity. It's well worth having a look.

Tafika's plentiful fruit and vegetable garden, which is an extensive area surrounded by an electric fence, primarily to keep the elephants out, is a delight. A labour of love to plant and maintain, it's a major undertaking, professionally run, and ensuring that much of the camp's produce is home-grown and exceedingly fresh. From papyas to aubergines and fragrant herbs, much of what you'll eat here was picked the morning it's eaten.

And much though it's idyllic in camp, and good company is always on hand, there's a great array of activities on offer to explore the park. Guests may choose what they'd like to do daily and it would be very unusual for the team not to be able to arrange your request.

As with many camps in the South Luangwa, activities focus on game drives (day and night) and walking safaris. The drives are generally conducted in purpose-built, open-sided and open-topped 4WD vehicles, which have just two rows of comfortable bench seats. There are no more than four guests per vehicle, a real feature of the activities at Tafika. On our last trip in August 2022, we walked from the river crossing near to Tafika up to Big Lagoon, Tafika's newest walking camp, and we've previously walked to Chikoko. The guides have always been exceptional, on occasion getting us as close as safely possible to an immense breeding herd of buffalo, and always pointing out a plethora of insects, plants and spoor along the way.

Custom-built hides near to the camp provide ideal opportunities to view and photograph animals at the waterhole and, in season, the nesting carmine bee-eaters (September – October). After one August lunch, we watched giraffe, bushbuck and mongoose enjoy a drink in the hide just paces from our chalet.

We have also been on a mountain-bike safari with John, a passionate cyclist who often leads these trips. It's a great opportunity to get active. Starting with a gentle afternoon ride through the game management area and village of Mkasanga, home to most of the staff, where Tafika has helped support education and healthcare. You'll be guaranteed a warm welcome before cycling on into the park and meeting up with a 4WD safari in time for drinks at sunset and a night drive back to camp. There are no other Luangwa camps offering this activity and it's a great 1.5hr ride.

It's also possible to have a proper visit to Mkasanga, where you are invited to visit the school, wander around the village and enjoy the church choir. Although they don't boast about it, Tafika is very much in touch with its local community, supporting its development through the Tafika Fund and providing considerable training and employment to the people who live there.

What distinguishes Tafika further is that it's virtually the same team of guides every year, including John Coppinger, Bryan Jackson and Isaac Zulu and Alex Phiri. The least experienced of these has been guiding for more than 20 years – guaranteeing the exceedingly high level of knowledge and experience that draws many of our travellers back to Tafika on a regular basis.

A stay at Tafika combines very naturally into a longer trip including its sister walking camps, Big Lagoon Camp and Chikoko Tree Camp, both of which are situated across the Luangwa River, in a section of the national park set aside exclusively for walking safaris. See the satellite map of the area around Chikoko for a view of these camps. Walkers will note that it's an easy three–four-hour walk between Tafika and Chikoko, or Chikoko and Big Lagoon Camp.

If you want to venture further, then Tafika and its bushcamps combine well into a ten-night (or longer!), fly-in trip that includes their more distant sister camps, Mwaleshi Bushcamp and Takwela Camp located in the remote North Luangwa National Park, famed for its burgeoning rhino population.

Season-dependent, trips from Tafika to Shiwa Ng'andu and Kasanka National Park are also on offer – using a small aircraft that is stationed at Tafika's airstrip.
Our view
Although Tafika's reed-and-thatch rooms give it a consciously rustic appearance, don't be deceived into thinking that this is a basic bushcamp. It is one of the very best camps in Africa, with highly experienced guiding, excellent food and consistently high standards throughout. It is also one of the longest-standing, and last-remaining owner-run camps in Zambia. John and Carol and their children have called Tafika 'home' for more than 20 years, and they remain dedicated to it, now running it in tandem with their daughter Jennifer and her husband, Nick. You won't find another camp that retains such a genuinely 'bush' feel, combined with food, furnishing and hospitality of such a high quality.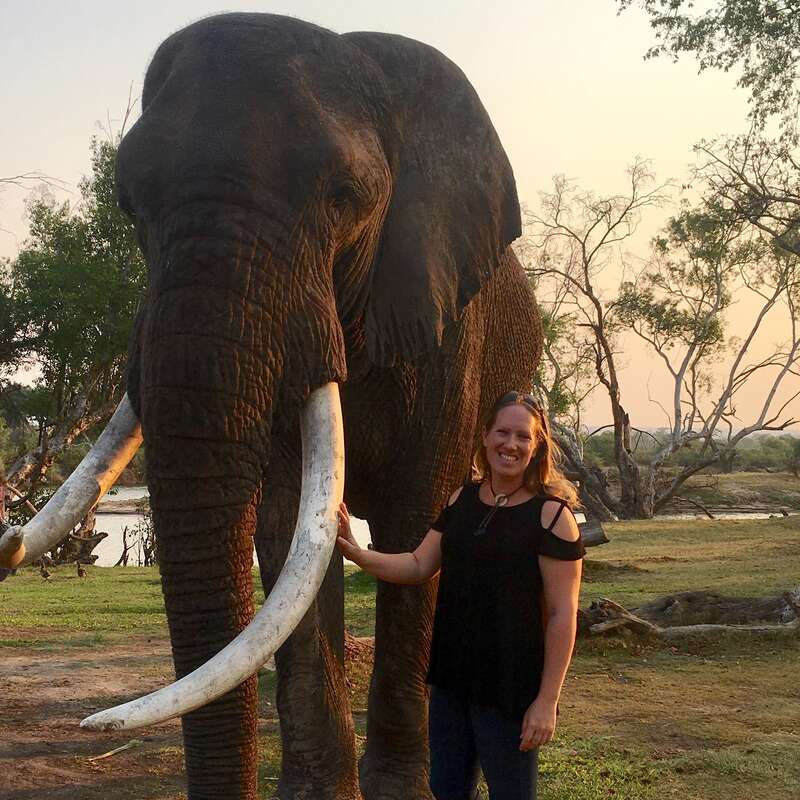 Geographics
Location

Ideal length of stay

In the dry season, it's perhaps most popular to start a safari in the South Luangwa at Tafika, staying for three or four nights before heading to its sateillite bushcamps – Big Lagoon Camp and Chikoko Tree Camp for a few nights each. Often trips will finish with a night or two at Tafika – although some will finish with a visit to Mwaleshi or Takwela in the North Luangwa.

To check for space at Tafika see the Availability tab – above right.

Directions

It's around an hour's flight from Lusaka to Mfuwe Airport, where you'll be met transferred through the national park. It's approximately 1½–2 hours by road to Tafika.
A flight transfer from Mfuwe to Lukuzi airstrip (Tafika) takes 12 minutes.


Accessible by

Fly-and-Transfer
Food & drink
Usual board basis

Full Board & Activities

Food quality

Tafika has always offered delicious, high-quality meals, and our last visit in August 2022 was no exception. The head chef, Rona, has been with Tafika for nearly 15 years, and the food has been consistently outstanding under her watch.

A buffet breakfast is normally available in the main area before the early-morning activity and guests generally eat on their laps around the campfire. There is a wide choice, from freshly baked bread, sweet or savoury muffins, cereals, fresh fruit salad and yoghurt. Accompanying this one morning, there was a platter of cold meats, cheese, pickles and tomato, with the option of scrambled eggs; while the following day we had a cooked breakfast with bacon, tomato, sausages and poached eggs.

Lunch is served at about midday, when everyone has returned from their morning activity. We enjoyed a selection of creative, fresh salads, an aubergine moussaka and freshly baked bread, and a platter of juicy fresh fruits.

Dinner is usually served once everyone has returned from the evening activity, and shared a drink at the bar. The meal is eaten around two large circular tables, although barbecues are frequently arranged on the banks of the river near to the camp. Though there is sometimes a buffet option, the kitchen at Tafika usually serves a set menu for dinner - and they're able to cater to a variety of dietary requests with advance notice. From hearty soup starters with sweetcorn fritters to rich beef stews with seasonal vegetables, and crowd-pleasing desserts, dinners are a feast of flavours and enjoyably sociable.

Dining style

Group Meals

Dining locations

Indoor and Outdoor Dining

Further dining info, including room service

No

Drinks included

Filtered drinking water, soft drinks, house wine and spirits are included in the rates, but fine wines are charged as extras.
Special interests
Family holidays

Tafika offers a family chalet, top guiding and excellent food and service during Zambia family safari holidays. Expect 4WD drives, walks, mountain-bike safaris and village visits! The owners raised their own children here, so under-12s are sometimes accepted.
See ideas for Family holidays

Birdwatching

Tafika guides are knowledgeable birders. Highlights of the area include flocks of crowned cranes during the dry season, a yellow-billed stork colony May–July, carmine bee-eaters Sep–Oct, and Pel's fishing owl all year round, making this a great spot for birdwatching in Zambia.
See ideas for Birdwatching

Cultural experiences

The owners at Tafika have excellently integrated the camp into its local community. If you are keen to experience traditional cultures in Zambia you are welcome to visit the village, where you can expect a very warm welcome.
See ideas for Cultural experiences

Walking safaris

Tafika is owned and run by John Coppinger, one of the most experienced guides for walking safaris in Zambia, who helps to monitor guiding standards in the valley. Camp-to-camp walking trails are possible between Tafika and its satellite bushcamps, Crocodile and Chikoko.
See ideas for Walking safaris

Wildlife safaris

Tafika's excellent guides lead numerous activities, allowing multiple perspectives during a wildlife safari in Zambia. The camp is in the Nsefu Sector of South Luangwa National Park, which is an excellent area for big game including elephant, buffalo, leopard and occasionally wild dog.
See ideas for Wildlife safaris
Children
Attitude towards children

John and Carol brought up their two daughters at Tafika, which was their home when they were growing up, so they're very relaxed with children. Their daughter Jennifer is now managing Tafika so knows exactly what it's like to be a child in this area.

Property's age restrictions

Tafika welcomes children of 12 years and older. Younger children may be accepted at Tafika's discretion – depending on the circumstances and season. Talk to us if you're thinking of bringing children here. Note that children must be 12 years or older to participate in walking safaris.

Special activities & services

None

Equipment

None

Generally recommended for children

Although children are welcome, the camp is largely one for older children or adults. We recommend Tafika for mature, well-behaved children over the age of 12.

Notes

Tafika is on the edge of the Luangwa River and is not fenced, so animals roam freely through the camp. Children must be supervised at all times by a parent or guardian.

Our travellers' wildlife sightings from Tafika
Since mid-2018, many of our travellers who stayed at Tafika have kindly recorded their wildlife sightings and shared them with us. The results are below. Click an animal to see more, and here to see more on our methodology.







Spotted Hyena
90% success








Sable antelope
0% success
Communications
Power supply notes

There are USB charging ports in the chalets for mobile phones, and a there is a central charging point in the main area for camera batteries, which can be used 24 hours a day.

Communications

Limited WiFi is available in the main area of the camp between 6am – 4pm, daily. There is no cellphone reception at Tafika, but in an emergency the camp has access to very good communications facilities. Discrete, essential-only use of mobile phones is encouraged.

TV & radio

There is no TV or radio.

Water supply

Borehole

Water supply notes

Basins and showers are plumbed in, and the showers have a 24-hour supply of hot and cold water. There are proper flush toilets in each of the bathrooms.
Sustainability

The Tafika Fund
Through the Tafika Fund, Tafika and its sister camps have committed to support the nearby government operated school, Mkasanga, by providing stationery and text books, desks, teachers' salaries, school renovations and maintenance. The Fund also provides pupils' scholarships, skills training and sewing classes for women with the view to support local industries producing safari clothing and school uniforms.
The people of Mkasanga Village, the local health authority and the Tafika Fund combined efforts to build an outpatient clinic in Mkasanga. Funds for medicines are provided, as well as wages for an assistant to the medical officer throughout the year. They have plans to extend the facilities to include inpatient services and a maternity wing when further funds become available. The opening of this health facility has been of tremendous benefit to all in the area.

These safari camps are situated in a wilderness area far north of the Mfuwe hub and the support provided through the Tafika Fund to the local communities in this area is vital. They provide direct employment in their camps for the local people, as well as seasonal employment to many others, as each of their camps is completely re-built each year using entirely local materials.

The Chikoko Trails bushcamps are situated in an exclusive walking only area where there are almost no roads and the environmental impact is thus greatly reduced. Accommodating a maximum of only six guests in each camp, their staff is mindful of the need to preserve this wilderness and keep any impact as temporary as possible. At Mwaleshi in the North Luangwa, the emphasis again is on walking safaris. All these bushcamp areas revert to pure wilderness for half of the year during the rainy season.

Waste disposal is carefully managed at all of their camps to leave no trace of their presence. Waste from the Chikoko Trails bushcamps is portaged back to Tafika for sorting – all non-biodegradable waste is packaged and sent back to Lusaka for proper disposal. Paper is distributed to the boilers for hot water at the camps; and bio-degradable waste is used to make compost for the vegetable garden at Tafika.

These camps actively support the anti-poaching work of the North Luangwa Conservation Project. They financed the installation of radios at the Chibindi Scout Camp and also provided a boat near Chibindi Camp to enable the anti-poaching patrols to safely cross swollen rivers during the rains. John Coppinger has flown hundreds of microlight hours on anti-poaching surveillance.

The 2010 season saw the introduction of the Luangwa Conservation and Community Fund charge to all bookings. This amount of US$10 per person per night is split equally between the Tafika Fund and conservation projects in both North and South Luangwa.
See more great sustainability projects in Zambia
Health & safety
Malarial protection recommended

Yes

Medical care

There is a doctor in Mfuwe, about an hour's drive away, as well as a local doctor at the clinic closer to Tafika. For medical emergencies, Tafika has links with a flying-doctor service.

Dangerous animals

High Risk

Security measures

Several nightwatchmen patrol the camp at night

Fire safety

There are fire extinguishers and a bucket of sand in each chalet and the main area, as well as a high-pressure water point.
Activities
4WD Safari

Birdwatching

Cultural excursion

Guided walking safari

Mountain biking

Night drive
Extras
Disabled access

On Request

Laundry facilities

A complimentary laundry service is included, but this does not include ladies' underwear; laundry soap for this is provided in the chalets. Note that clothes are hand-washed, air dried and coal-ironed.

Money

No exchange facilities are provided

Accepted payment on location

Tafika accepts cash payment for any extras in UK pounds, US dollars, euros and Zambian kwacha, as well as Visa and Mastercard payments, which will incur a charge of 4.5%. They cannot accept travellers' cheques.
Other lodges in South Luangwa National Park
Alternative places to stay in this same area.
---