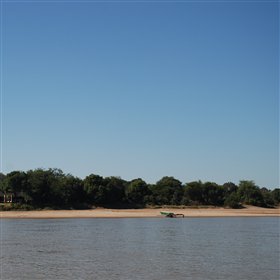 Luangwa River Camp lies shaded by a forest on the banks of the Luangwa River.
Standard Room
The rooms at Luangwa River Lodge are large and comfortable. Each is dominated by a double or twin beds with a large walk in mosquito net.

The doors at the front of the rooms are large and made from gauze – they open out onto the private balconies and allow great views towards the river. The beds can be made up as twin or double, and have bedside tables with stylish electric lamps.

The furniture in the rooms is individually designed and beautiful – wooden chairs or loungers are placed at the front of each room and behind the bed is a long low chest of drawers and a wardrobe with hanging space and shelves.

Each room is individually designed, which is reflected in the names they have been given.

The bathrooms in the rooms are absolutely stunning. Polished copper double basins lead to a set of steps, up which is a sunken bath with a view, and a large open shower. The bathrooms are decorated in muted colours, giving a relaxed and tranquil feel, and the sunken baths are big enough to swim laps in!

For added pampering, the staff will fill your bathtub for you during dinner so it is ready and waiting for you when you return to your chalet. Shampoo, moisturizer and soap are provided for you.