Gomoti Plains Camp: Our full report
Overlooking a tributary of the Gomoti River, the classic Gomoti Plains Camp is in a beautiful location.
It was opened in April 2017 in a private, community-run concession (NG32) in the south-east of Botswana's Okavango Delta. Surrounded by riverine forest with tall, elegant fan palms, leadwoods and knobthorn trees, it offers a good diversity of wildlife.

Gomoti Plains lies in the large NG32 concession of the Delta, which has been subdivided into three zones (1, 2 and 3), each operated exclusively by a separate safari company. Gomoti Plains sits in the north-east of zone 3, not far from the main Gomoti River. The camp is privately run by a new generation of sustainable safari operators, under the same ownership as Machaba Camp and Little Machaba in the Khwai Community concession.

The area within the vicinity of camp has a mixture of habitats. Coming from the airstrip you will pass through an area of mopane woodland, before going into shorter mopane scrub, then open grasslands before getting to the riverine forest and floodplains of the Gomoti River system. In the wet season the floodplains around the river and its tributaries swell with water, small pans fill up in the grasslands and the animals move out of the riverine forest and floodplains (where they reside during the dry season) and move into the grasslands. Some of the exciting big game found in this area includes wild dog, prides of lion, leopard, rhino, hippo, big herds of buffalo, and even cheetah, as well as plentiful plains game such as zebra and giraffe.

Along a sandy path that weaves through the riverine vegetation, Gomoti Plains has 10 'modern meets classic safari style' tented rooms, all very well spaced out. Set back slightly from the river on wooden decks just a step off the ground, eight of these are standard twin or double rooms; the other two are designed for families. All are minimalist in design yet they're smart, light and bright – a refreshing change from the rather dark interiors at some of the older camps in Botswana. It's clear that a good deal of thought has gone into the design, and we liked the tents a lot.

To the front of the of each tent is a two-piece day bed as well as a table and a couple of chairs that are a more comfortable take on directors' chairs. From here in all but two tents you can watch birds and other wildlife around the small river and on the floodplain.

Inside the tents, accessed through large zipped doors, the bedroom and bathroom areas feature muted greys, greens and beiges. A couple of mats add comfort and warmth to the wooden floors, and a large fan will help to help keep you cool in the warmer summer months.

Facing the doors and the views beyond, simple, but very comfortable, metal-frame beds can be made up as either twins or doubles, with a bedside table and an anglepoise lamp on each side. At the foot of the bed are a comfy sofa with a small circular table carved from a tree stump, and a modern standing lamp, while behind the bed is a large unit with shelves and hanging space for clothes and other bits and pieces. Here you'll also find a flask of cold water, a digital safe, shoe polish and a couple of kikois – cool wraps that are great for use in really hot weather.

At the back of each tent, the en-suite bathroom can be separated from the bedroom by a large dividing screen. His and hers white ceramic washbasins are set into a light wood and metal frame with two large mirrors suspended above these. There is more hanging space here, too, with bathrobes and slippers, a laundry basket and complimentary toiletries provided. The toilet and shower are in separate cubicles, each with a roll-down door for privacy, and a separate door leads from the indoor shower to an enclosed but open-topped outdoor shower.

The two family tents are made up of two similar tents linked through a small lounge area with a shared bathroom at the rear.

In 2018 Gomoti Plains Camp added a private villa which they've called Gomoti Private. It's located at the far end of camp and has exactly the same layout and design as the main camp, but on a smaller scale. There are just two tented rooms; one of them is a two bedroom family room, and the other they refer to as the honeymoon suite which has the added extra of an outdoor bath. Gomoti Private is self-contained and operates completely separate to the main camp, with its own lounge and dining room, plunge pool, private chef and private guide. It's a great option for small groups and families looking for an exclusive safari experience.

The tented main area at Gomoti Plains Camp is light and airy, and has a modern safari feel, with views over the river and narrow floodplain to the trees beyond. In the entrance, a massive vase forms a striking centrepiece, with the dining area on one side, and a comfortable lounge to the other. Various maps of the region adorn the walls and the muted décor of beige, grey, mustard and green tones combines with a hardwood floor to give the feel of understated luxury.

The well-furnished lounge features large comfy sofas and chairs, and a sizeable bookcase with a good selection of books and magazines on local wildlife, plants, geography and history, as well as board games for children and adults. There is also a small bar with high stools where drinks are served (or you can help yourself in the absence of anyone to serve you).

In the dining area, simple but stylish chairs and tables are set up individually at breakfast and lunch but are usually combined in the evening into one or two larger tables for a more sociable atmosphere. However, these arrangements are very flexible and the friendly staff are happy to accommodate your wishes. Tea and coffee are also found here, along with a water dispenser of cold filtered water where you can help yourself throughout the day.

The front of the main tent opens out onto narrow decking with more seating, and beyond this is a tidy sandy area where early morning coffee/tea and pre- dinner drinks are served around a campfire. At night, paraffin lamps hanging from stands scattered around create a feel of old-time safari and romance.

Just a stone's throw away is the curio tent, with a good selection of clothes, books, local artefacts etc, while continuing a little further brings you to the moderately sized, walk-in entry swimming pool overlooking the river. Here, a concrete deck is set with sunloungers and a couple of umbrellas – a great spot to relax after a long game drive.

On all our visits to Gomoti Plains, the game-viewing has been incredibly good – both in numbers and diversity of wildlife. The birdlife was also varied and plentiful with both land and water species in abundance. We understand that wildlife remains pretty good all year round due to the varied topography of the area, and we have witnessed this ourselves on recent trips in September and November 2018, and December 2019. We've seen leopards, a young lioness kill a warthog, red lechwe galore, hippos, crocs, hyena, a heard of roughly 700 buffalo and fresh rhino tracks.

To explore the area around Gomoti Plains Camp, activities focus on day and night 4WD game drives, mokoro excursions and motorboat trips (depending on water levels). The camp also offers a chance to explore on foot, with guided walks (depending on the weather and the condition of the terrain) accompanied by an armed tracker. You can also indulge in a relaxing spa treatment by a qualified therapist in your room.

Water activities are a great way to get up close and personal with the many birds to be found in this area. The mokoros are launched from just in front of camp, or a 5-minute drive away when water levels are low, and the boat excursions are a short 15–20-minute drive to a deeper channel closer to the Gomoti River itself.

There are good chances of seeing rhino at Gomoti Plains, which is particularly special, as rhino were poached out of Botswana in the 1990s. Following a gradual re-introduction in the last 15 years or so, several more rhino were translocated from the threat of poaching in South Africa and released into this vast concession in 2017, which is great for the conservation of this endangered species. As the animals are relatively new to the area, some of them were initially a bit skittish, but we suspect that they will relax as they get used to the area and the vehicles.

Aside from leopard and lion there were plenty of giraffe, zebra, kudu, warthog and hippo. The birding was varied, too, from giant eagle owls, ostrich and lilac-breasted rollers to open-billed storks and African fish eagles. From boat and mokoro trips we were able to get some great sightings of water birds: a variety of herons, darters and kingfishers, jacanas and plovers to name a few, and we also came relatively close to elephant on the way back into camp.

Although you will cross into the neighbouring zone coming from and going to the Qorokwe airstrip, you should not see vehicles from camps in the other zones during your game drives at Gomoti Plains, as they do not share traversing rights. Thus game drives here are more exclusive than at either of its sister camps on the Khwai River.

As at the other two camps, the managers at Gomoti Plains are more than happy to take guests on a back-of-house tour, which we found really interesting. You'll see how the camp is designed to limit any negative impact on the environment. This includes a sophisticated system of solar panels; low-energy appliances such as fridge-freezers that require little more energy than a couple of lightbulbs; and waste disposal systems that see organic waste neutralised before being returned to the environment in a harmless form, with all non-organic waste taken to Maun for recycling.
Our view
Our expectations were high when we first visited Gomoti Plains Camp in October 2017 and we haven't been disappointed yet. On our most recent visit in December 2019 we were still thoroughly impressed with the quality of the camp, the level of service and the diversity of wildlife in the area. It's a modern classic camp, well designed, comfortable and relaxed – and very well-priced for what it offers. Being in a private concession, the game-viewing experience is also relatively exclusive, making for a winning combination.

Geographics
Location

Ideal length of stay

3–4 nights

Directions

It's roughly 10 minutes by light aircraft from Maun (and 45 minutes from Kasane) to Qorokwe Airstrip, followed by a 30-minute game drive to camp.

Accessible by

Fly-and-Transfer
Food & drink
Usual board basis

Full Board & Activities

Food quality

We first stayed at Gomoti Plains in October 2017 and the food was excellent, varied and tasty, giving an overriding impression of good old-fashioned home-style cooking. On our most recent visit in December 2019 the food was just as good. With advance notice, the camp can cater for vegetarians and other dietary requirements. They will also prepare special meals for children, on request.

Prior to the morning activity, there's a light breakfast of cereal, yoghurt, muffins/pancakes and fresh fruit, with the added option of a cooked breakfast and toast.

Brunch is served after returning from the morning activity. We enjoyed fried hake, spicy potato wedges, a lettuce, feta and tomato salad and freshly baked bread. Fruit and cheese platters were available for dessert.

Shortly before heading out on the afternoon activity tea is served. We really enjoyed the homemade pittas which you could fill with chicken and beef and salad and cheese cheese. These were accompanied by fresh homemade lemonade, iced coffee and tea, as well as hot tea and coffee.

Shortly after you return from the afternoon activity, pre-dinner drinks are offered around the campfire before settling down to dinner. Chicken liver pate with bruschetta to start, followed by a beautifully cook lamb shank with couscous, butternut squash and green beans, rounded off with a delicious coffee mousse with a chocolate spoon!



Dining style

Mixture of group dining and individual tables

Dining locations

Indoor and Outdoor Dining

Further dining info, including room service

Bush dinners, bush picnics, and private dining in the rooms are available upon request.

Drinks included

All beverages stocked in camp are included (bottled water, soft drinks, local beers, spirits and a limited selection of generally South African wines). Champagne and premium or imported wines and spirits cost extra and must be requested in advance, as these are not held in camp.

Each tent is provided with glasses and a flask of drinking water that is replenished daily. We don't recommend that travellers drink from the tap.
Children
Attitude towards children

Children of all ages are welcome at Gomoti Plains Camp.

Property's age restrictions

There is no minimum age, but families with children younger than six years must book a private vehicle at additional cost.

Children under 12 are not allowed to participate in mokoro or walking activities.


Special activities & services

They can offer children a different choice of food at mealtimes and the timings of meals can also be flexible.

There are some games in the main area, and have a children's activity book, including colouring and collecting activities.


Equipment

None, although the camp does have two family tents.

Generally recommended for children

We would recommend Gomoti Plains for mature children who have a keen interested in wildlife.

Notes

Gomoti Plains is unfenced, and dangerous wildlife, including lion and elephant, can wander through the camp at any time. There is no fence around the pool. Children must be supervised by an adult at all times.
Our travellers' wildlife sightings from Gomoti Plains Camp
Since mid-2018, many of our travellers who stayed at Gomoti Plains Camp have kindly recorded their wildlife sightings and shared them with us. The results are below. Click an animal to see more, and here to see more on our methodology.












Spotted Hyena
26% success


Roan antelope
23% success

Sable antelope
12% success



Communications
Power supply notes

They have a back-up generator

All tents have 220V multi-adaptor plug points, which can be used to charge batteries and sleep apnoea machines, but they are not suitable for hairdryers or electric razors.


Communications

WiFi is available at a picnic table shaded by an umbrella at the back of camp, near the kitchen, though it can be a bit hit and miss at times.
Generally there is no cellphone reception; though occasionally some pops up, please do not rely on this!


TV & radio

There is no television or radio at Gomoti Plains Camp.

Water supply

Borehole

Water supply notes

All the tented rooms have plumbed hot and cold running water for showers, and flushing toilets.
Sustainability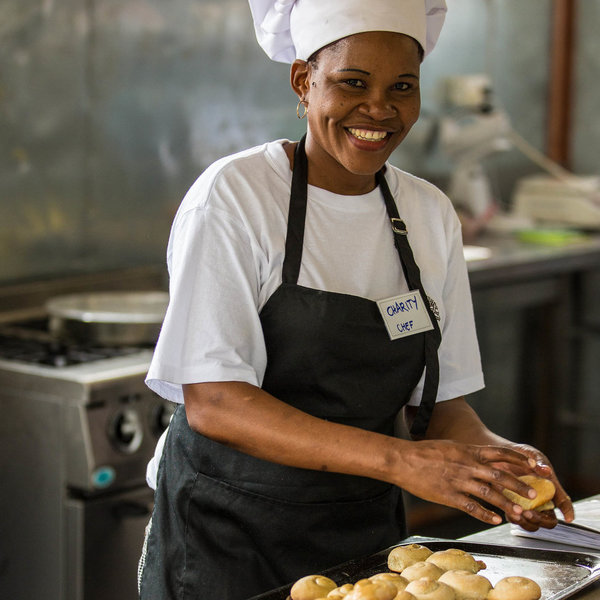 Self-sustaining safari experience
Gomoti Plains Camp: Self-sustaining safari experience
Celebrating Botswana's low volume, eco-friendly tourism, Gomoti Plains Camp embraces the idea of sustainability in its daily operations and aims to minimize the negative impacts of tourism activity on the wildlife. Committed to being majorly self-sustaining, Gomoti Plains is especially involved in recycling or reusing waste and therefore reducing its footprint on the environment as much as possible.

Generated food waste is classified into different categories and goes under further treatment. These residues are either reproduced into fertilizers, or used to feed the animals that support the lodge's self-sustaining farm. This way, the camp manages to supply the kitchen with fresh ingredients such as eggs, milk, honey and poultry, offering visitors an authentic taste of African dishes made off with organic ingredients. On the other hand, solid waste generated from the lodge's operations is either reused, sent for recycling to the nearby town of Maun, or goes through a purification system. With the help of the three cleaning bio plants built under the kitchen, staff and living areas, waste is purified and broken down into substances that are suitable for returning into the environment.

Consistent efforts for minimizing its environmental footprint ensures that the lodge can remain a safe ground for the wide variety of animals living in the Okavango delta, and that Gomoti Plains Camp can continue to responsibly offer visitors memorable wildlife encounters.
See more great sustainability projects in Botswana
Health & safety
Malarial protection recommended

Yes

Medical care

Management and guides are level 3 first-aid trained and they have a full trauma kit on site. Medical evacuation is available in case of emergencies. However, please note that it is only possible to fly out of camp during daylight hours as the bush airstrips do not have any lighting at night. The nearest doctor is in Maun and there are hospitals in Maun and Johannesburg.

Dangerous animals

High Risk

Security measures

Guests are escorted to their tents after dark as dangerous wildlife is known to wander through the camp. 'Fog horns' are provided in the tents to summon help in case of emergency.

Fire safety

Each tented room has a fire extinguisher and the tents are also surrounded by an emergency irrigation system.
Activities
4WD Safari

Birdwatching

Boat trip

Fishing

Guided walking safari

Helicopter

Mokoro

Night drive
Extras
Disabled access

In Place

Laundry facilities

A laundry service is included (including smalls). Laundry is collected in the morning and usually returned the same day, weather permitting. Washing powder is provided in the tented rooms for guests to wash their smalls if they wish.

Money

No exchange facilities are offered at Gomoti Plains. There is a small safe in each tent that can fit travel documents, cash and wallets.

Accepted payment on location

Mastercard and Visa credit cards are accepted, but Diners and Amex are not. Cash in the form of South African rand, GB sterling, US dollars, euros and Botswana pula is accepted.
Other lodges in Okavango Delta Safari Reserves
Alternative places to stay in this same area.
---